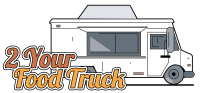 Privacy Policy
Thank you for visiting our website and your interest in our company and services. Data protection and data security are very important to us. Therefore, for your further visits to our website, we would like to inform you about data collection, processing and use when visiting and using our service. As well as objection, revocation and other rights to which you are entitled as a person affected by data collection and use.
This we do in compliance with the applicable data protection legislation and have committed to Nevada`s Privacy Law (SB-220), the Federal Trade Commission FIPs (FIPs), and many principles deriving from the General Data Protection Regulation (GDPR).
Who is responsible?
2 Your Food Truck Inc. of​​ ​​304 S. Jones Blvd Suite 4302 Las Vegas NV 89107 is handling your personal data.
Accuracy
It is important that the data we hold about you is accurate and current, therefore please keep us informed of any changes to your personal data.
Children Data
Our website is not intended for children. We do not knowingly collect data and information relating to children. We are in compliance with the requirements of COPPA (Children's Online Privacy Protection Act).
What data do we collect?
We may collect data or ask you to provide certain data when you use our website and services. The sources from which we collect Personal Data are:
Registration
To create an account, you need to provide data including your name, email address, username and a password.
Billing data
Billing data is everything we need to set up your payment including your name, email address, masked credit card number and in certain circumstances, your billing details and your phone number if this is not already collected.
Messages
We collect information about you when you send, receive, or engage with messages in connection with our Services.
Our Services are dynamic, and we often introduce new features, which may require the collection of further information; therefore, if we collect materially different personal data or materially change how we collect, use or share your data, we will modify this Privacy Policy.
We link data, and if we have already collected some of your data, we will only ask you for the remaining data necessary to carry out the service contracted for.
How personal data is collected
We collect personal data in the following ways:
Direct Interactions
You may provide personal data when you complete online forms, request products/services, subscribe to our services, create a user account or correspond with us (by post, phone, or email)
Automated Technology
We do not automatically collect personal data (technical and usage) when you browse or interact with our website.
On what grounds do we use Personal Data?
We use your Personal Data for the following purposes and on the following grounds:
Based on fulfilling our contract (when you use our service)
Based on your consent (when you contact us)
Based on legal obligations (for obligations such as tax, accounting, anti-money laundering, or when a court or other authority asks us to)
Based on our legitimate interest (for communications about security, privacy, and performance improvements of our services. Or for establishing, exercising, or defending our legal rights.)
Of course, before relying on any of those legitimate interests, we balance them against your interests and make sure they are compelling enough and will not cause any unwarranted harm.
When do we disclose your Personal Data?
We disclose your Data in response to your inquiry or your request for information within our Company to provide the best service possible and within our legitimate interest.
We may share your information with organizations that help us provide the services described in this Data Protection Policy and process such data on our behalf and per this Data Protection Policy to support this website and our services. For example, with our legal other professional advisors or our commercial partner such as the location's kitchen.
We may also share information with our secure payment gateway provider
stripe
. For example, you may need to provide credit or debit card information directly to the provider. We, process payment details and authorize payment following a secure link. In such cases, the information you supply is not within our control and is subject to the payment gateway provider's Privacy Notice and Terms and Conditions. Click the following to read the
Privacy Notice
and
Terms and Conditions
of Stripe.
We may disclose personal information in other circumstances, such as when you agree to it or if the law, a Court order, a legal obligation, or regulatory authority ask us to. If the purpose is to prevent fraud or crime or if it is necessary to protect and defend our right, property, or personal safety of our staff, the website, and its users.
Data retention
We will only retain your data for as long as necessary to fulfill the purposes we collected it for, including for the purposes of satisfying any legal, accounting, or reporting requirements.
Your Rights
The Nevada Privacy Law does not include the right of access, portability, deletion, or non- discrimination. However, as we want to give you more control over the personal information that we collect about you, we are granting you the following:
The right to know about the personal information we collect about you and how we use and share it;
The right to delete personal information;
The right to opt-out of the sale of your personal information; and
The right to non-discrimination for exercising your privacy rights. ​
​
How do we protect your Personal Data?
We protect your data using state-of-the-art technology to satisfy and physical safeguards and operate a firm system of policies, confidentiality agreements, digital safeguards, and procedures to ensure the highest level of administrative protection.
The data we collect from you may be stored, with appropriate technical and organizational security measures applied to it, on our servers in the USA. In all cases, we generally follow high data protection standards and advanced security measures to protect the personal data submitted to us, both during transmission and once we receive it.
To exercise any of your rights, or if you have any questions or complaints about our use of your Personal Data and this policy, please contact us using our contact form.
International transfers
We do not share your data with recipients outside the USA.
Do Not Track
Do Not Track is a privacy preference you can set in most browsers. We support Do Not Track because we believe that you should have genuine control over how your info gets used and our site responds to Do Not Track requests.
Do Not Sell My Personal Information
We do not sell information that directly identifies you, like your name, address, social security number, banking information, or phone records. In fact, we do not even share that type of information except with service providers who can use the information solely to provide a service on our behalf, when a consumer directs us to share the information.
If applicable, you can choose whether you want this sharing or not. Remember, we don't sell data that directly identifies you unless we have your explicit permission, no matter what choice you make. To make your choices please contact us.
Automated decision-making and profiling
We do not use automation for decision-making and profiling.
Personal Identity Information (PII) Statement
Commercial Partners:
Individual(s) or companies that have been approved by us as a recipient of organizational PII and from which 2 Your Food Truck Inc. has received confirmation of their data protection practices conformance with the requirements of this policy. Commercial Partners include all external providers of services to 2 Your Food Truck Inc. and include proposed Commercial Partners. No PII information can be transmitted to any vendor in any method unless the vendor has been pre-certified to receive such information.
PII Training:
All new hires entering 2 Your Food Truck Inc. who may have access to PII are provided with introductory training regarding the provisions of this policy, a copy of this policy, and implementing procedures for the department to which they are assigned. Employees in positions with regular ongoing access to PII or those transferred into such positions are provided with training reinforcing this policy and procedures for maintaining PII data and shall receive annual training regarding the security and protection of PII data and company proprietary data.
PII Audit(s):
2 Your Food Truck Inc. conducts audits of PII information maintained by 2 Your Food Truck Inc. in conjunction with fiscal year closing activities to ensure that this policy remains strictly enforced and ascertains the necessity for the continued retention of PII information. Where the need no longer exists, PII information will be destroyed per protocols to destroy such records and logs maintained for the dates of destruction.
Data Breaches/Notification:
Databases or data sets that include PII may be breached inadvertently or through wrongful intrusion. Upon becoming aware of a data breach, 2 Your Food Truck Inc. will notify all affected individuals whose PII data may have been compromised. The notice will be accompanied by a description of the action being taken to reconcile any damage resulting from the data breach. Notifications will be provided as expeditiously as possible and in no event be later than the commencement of the payroll period after which the breach was discovered.
Confirmation of Confidentiality:
All company employees must maintain the confidentiality of PII and company proprietary data to which they may have access and understand that such PII is to be restricted to only those with a business need to know. Employees with ongoing access to such data will sign acknowledgment reminders annually attesting to their understanding of this company requirement.
Violations of PII Policies and Procedures:
2 Your Food Truck Inc. views the protection of PII data to be of the utmost importance. Infractions of this policy or its procedures will result in disciplinary actions under 2 Your Food Truck Inc's discipline policy. They may include suspension or termination in the case of severe or repeat violations. In addition, PII violations and disciplinary actions are incorporated in 2 Your Food Truck Inc's PII onboarding and refresher training to reinforce 2 Your Food Truck Inc's continuing commitment to ensuring that this data is protected by the highest standards.
Changes
This Data Protection Policy and our commitment to protecting the privacy of your data can result in changes to this Data Protection Policy. Therefore, please regularly review this Data Protection Policy to keep up to date with any changes.
Questions and Complaints
Any comments or questions on this policy should be directed to us using the following contact details.
2 Your Food Truck.
304 S. Jones Blvd Suite 4302
Las Vegas NV 89107
support@2yourfoodtruck.com
​​www.2yourfoodtruck.com